Photo Album
Here are pictures and information for goats that have either died or have been sold after use as breeding stock.
Most of the pictures are thumbnails which you can click upon to see a full-size picture.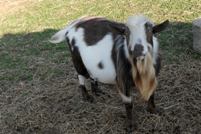 Atwood Acres DC Independence
Here was our first buck, Atwood Acres DC Independence, or Indy for short. He was born in 2006 and died on 20 September 2011 of unknown cause. He was not overly friendly to people like some of our goats are. He did give us one daughter whom we retained (Endellion) and he supplied us with four bucks (sold as wethers). He will be sorely missed as his life was too short.
Here is his pedigree:
Sire and Dam:
Woodhaven Farms Dusty Cowboy x CH Rebell Yell Liberty
Sire's Sire and Dam:
Woodhaven Farms Cowboy Cadilak x Soll-Orr's Bailey
Dam's Sire and Dam:
Caesar's Villa FL Fable x Caesar's Villa CBS Cheyene