Wethers
We have a few pet goats in addition to our breeders. Aodhan was purchased to keep company for our original herdsire, Indy, before we bought a second intact buck to keep Indy company. Hershey is a rescue goat, and a mischievous one at that.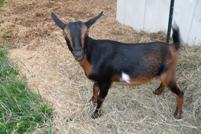 Aodhan
Here is our wether, Happy Tailz Aodhan (Aidan). His sister is our doe, Aibhilin. He is by far our friendliest goat, to the point of being clingy at times. He also has a very healthy appetite, and we're quite surprised that he remains as lean as he is. He has a beautiful buckskin pattern, and even though he will never sire kids, Stacy and I hope that we will have other buckskin goats born on our farm. We may train him and any other wether we keep to pull a small cart and use them in parades.
Aodhan's pedigree matches his sister's, Aibhilin.
Hershey
Hershey came to us as a rescue goat. He was an intact buck, but not registerable, so we paid to have him neutered. We do not normally take rescue animals, but we are able to care for one extra goat. Picture forthcoming.