Kidding season has finished! We have six beautiful kids to sell this year, please see the "Kids" link at left for information on pricing and their weaning dates.
See our Book of the Month at right! This is one of our favorite books and we can highly recommend it for all people interested in raising chickens. Good information for more seasoned poultry fanciers as well. Click on the link for more information!
---
Click Here for an article about the nutritional superiority of whole eggs to egg whites
Welcome to our home on the web! Wishing Well Farm is owned by Nathan and Stacy Hetrick. We are a small hobby farm of about three acres located in rural Gaines, MI. We raise Nigerian Dwarf Dairy Goats, chickens, ducks, and guinea fowl. We also have a black cat named Lucky. We ventured into the world of farming in spring 2009. Our herd of goats currently includes three bucks, two wethers, two junior does, four senior does, a doe kid, and several wethers for sale. We would like to eventually expand our herd to include about twelve does and three bucks.
We currently sell fresh chicken and duck eggs (subject to availability) and may start a goat share program in spring 2012. We also sell pet-quality goats and ADGA/AGS registered dairy goats every spring. In the future, we will sell purebred heritage chicks and adult chickens for breeding stock to others interested in keeping heritage breeds alive, and meat birds (processed) to those who wish to consume free-range, organic chicken. Check this site often for updates!
We currently offer for sale all-natural soy candles. You can choose your color and scent. Please click here to send an email for more information.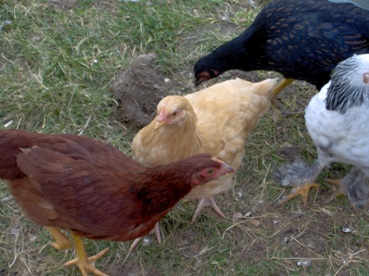 We also have a garden to grow our own produce and hope to eventually turn it into a market garden. We may also add turkey, sheep, and pigs to our small farm. We've even considered raising domesticated reindeer if we ever enlarge our property holdings.
We try to farm all naturally and organically whenever possible. All of our animals have access to pasture 24 hours a day all year, and we feed them all-natural feed which is usually soy-free. The goats eat non-certified organic hay along with their pasture and supplemental organic grain. While we believe strongly in organics, we are a small farm and cannot afford the cost of becoming certified organic at this time. We also do wish to at least keep the option open of showing our goats, and we are not sure how to do that and still raise them organically, so this will be a learning process.
We are still working on this website, so please be patient as you browse the various pages.
Proud members of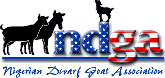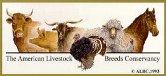 ALBC - Ensuring the future of agriculture through genetic conservation and the promotion of endangered breeds of livestock and poultry.
The American Livestock Breeds Conservancy protects genetic diversity in livestock and poultry species through the conservation and promotion of endangered breeds. These rare breeds are part of our national heritage and represent a unique piece of the earth's bio-diversity. The loss of these breeds would impoverish agriculture and diminish the human spirit. We have inherited a rich variety of livestock breeds. For the sake of future generations we must work together to safeguard these treasures.